Most certainly NOT a fatal mistake: Travelling to Cologne to see & meet "Del Amitri" from Scotland.
What a weekend! After nearly 20 years of firmly believing "Del Amitri" no longer existed, I finally got to see one of my all-time favourite and personally most influencial bands live with Tristan and his good friend Eze on Sep 10th 2022 in the "Kantine" in Cologne. The tickets were very reasonably priced at around 40€, a nice surprise in times were bands with a significantly smaller catalog and musical variety will not refrain from charging near-triple digit amounts on many occasions.
The evening provided a great show & a good set list including a selection of their new material from their recent album "Fatal Mistakes" released in 2020 I believe and their old classics like "Nothing ever happens", "stone cold sober" and quite a few others.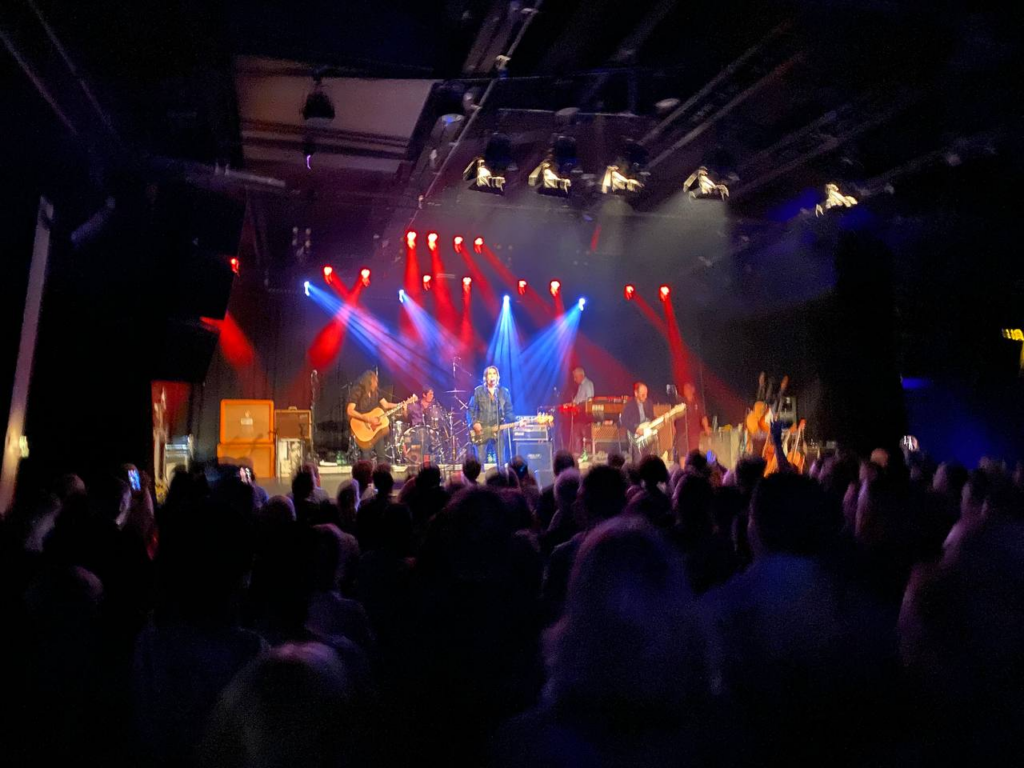 Justin opened the evening with a very nice near-acoustic rendition of one of my favourite dels songs "when you were young". Not full length, just the first couple of verses but enough to make my eyes water (the good kind of course :))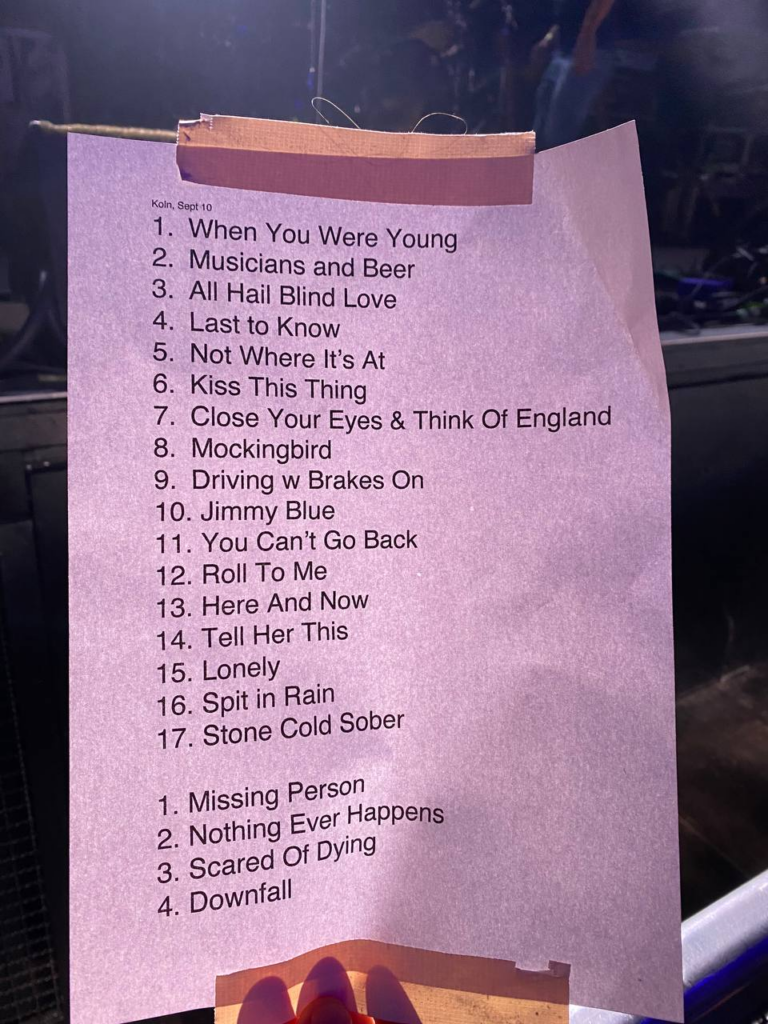 While you could tell that 90% of the audience grew up in the 70s to 80s, some young folks were around as well as apparently some parents still deem it necessary to introduce their near-grown offspring to some decent music! 🙂
After about 2 hours and one encore consisting of 4 songs (the gig ending with a happily sung along to "Be my downfall" by an apparently very text-secure audience), the "Dels" decided to call it a night (Justin especially looked quite knackered after giving his all) and I stumbled upon Iain and Kris meeting some folks at their tour bus when we had just called for a cab, it was really nice of them to be available for a short chat and agree, of course, to taking a photo.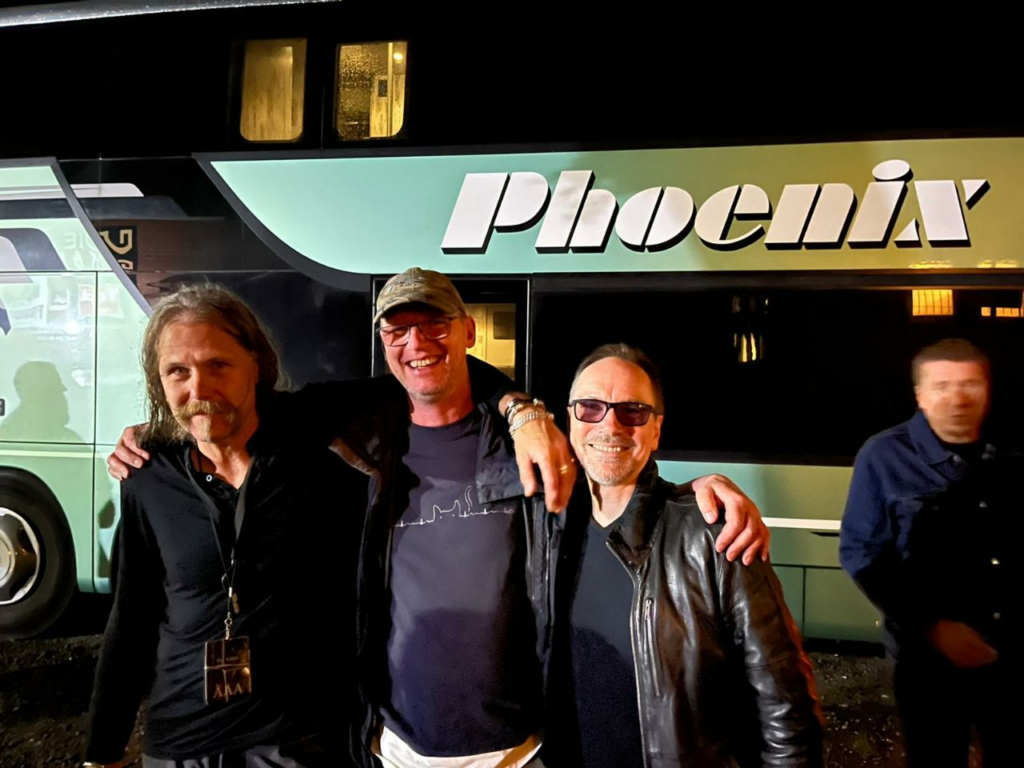 One more item (of the personally more important ones to me) is off the bucket list: Seeing the Dels perform a live "show" (deemed impossible for a long time because, well, I had no idea they were touring again). Thanks much for a great evening folks! On a rather sad note, neither Iain nor Kris could tell me about the mysterious chord for the bridge of "Drowned on dry land"… I was correct about the tuning Justin uses, but that one chord really must be is "secrect sauce" of some kind (he was probably already hiding in the bus and making faces at the window or something :))
More pics to follow as I collect them off various devices, mates and relatives. Hannah and toughie also had a great time attending the "Madness" gig at the e-werk, but naturally it could not hold a candle to the Dels and even featured YT videos as an "opening act" if you want to call it that 😉 Of course the Dels audience was treated with a proper live act to open up the show (2 of three members being featured below).
After the show, some excess stuff / memorabilia were handed out to folks near the stage, I was a bit too late when I noticed but a friendly young lass (accompanied by her mom naturally) was nice enough to hand me one of her spare picks she had receiced from a very friendly crew member):